Marty's Restaurant
March 8th, 2006 (by Tony)
This week's pick had a lot riding on it. Two weeks ago, I led the Burger Tour to Marty's, which as it turns out, closed at 5PM every day (WTF?!). Just my luck – and I even bothered to call just to make sure they were still in business. Boys and girls, make sure you check the hours, too.
So, this week, I took Burger Tour preparation to another level, folks. I actually SCOUTED out Carney's Restaurant before selecting it as this week's pick. I got up on Saturday morning, drove out to West Hollywood to the famed train car that is Carney's, and sat down to have one of their "best hot dogs in the world." They were pretty darn good I must say. So, I figured the burgers must be on par as well. Then, I actually asked the people behind the grill what the hours were on Wednesday and took note of the parking situation. This, ladies and gentlemen, is how much I love all of you Burger Tourists. Nothing but First Class for you guys.
So, on to the review. Carney's is a burger/hot dog joint stuffed in to train car, across the street from the swanky Standard hotel (I think) and nestled among over-the-top Sunset/West Hollywood joints. One tourist described it as "an island of mulletude, in a sea of posh."
Carney's says it has "probably the best hamburgers and hot dogs… in the world." The Burger Tour would be the judge of that.
Meat and Juice
The general consensus was that the patty was a little weak. Our tourists commented:
"My tomato was bigger than my meat."
"little, wimpy, small."
That about sums it up.
Bunnage
The buns were about average – kind of hard to screw this one up.
Baggage
Carney's fared better here. The food was so darn cheap that you could afford to try several things and still have enough left over to pay for half the cover charge at the House of Blues down the street. Some representative comments:
"Burgers are better with chili"
"Love the chili cheese fries"
"Didn't like the smooth flat fries"
"Too much onion and lettuce"
"Excellent chardonnay. $4 box wine… mmmm." On this note, another tourist ordered a merlot – the guy brought over a glass and topped it off until it was practically spilling over the sides. Not bad. Not bad.
Kenny Factor
No complaints here. The service was fast.
Mulletude
This is what Carney's was all about. What most of you missed was the smelly, old drunk who gave one of our female tourists a personalized comedy routine. That's Sunset for ya. One other cool thing I noticed, happy hour is from 4-7 and you can get a burger, fries, and a beer for $4. Sweet! Here's what our tourists thought:
"Rockin' house music!"
"Liked the atmosphere – different from other bars"
"Come on! We're eating on a train, woo woo!"
"I liked this place, no frills + decent food"
Finally, this was the most highly attended Burger Tour location to date, and it was quite a long drive. Respect our dedication – love the burger.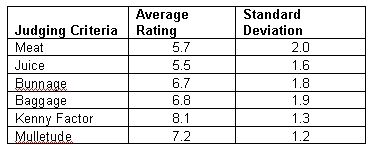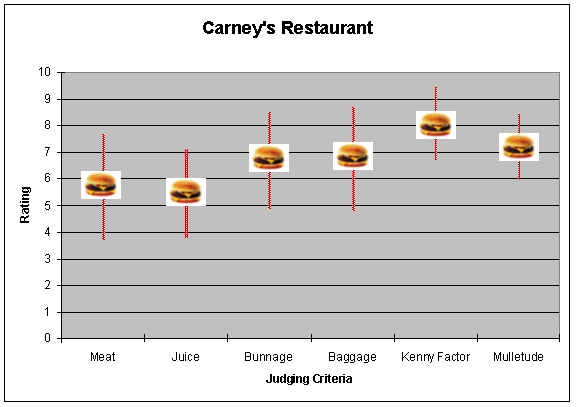 ********************************************************************
this just in from Champaign, "Land of Lincoln" Illinois...
March 8th, 2006 (by William Tucker - Whitney's brother)
I was visiting the "Big City" from the heartland (Champaign, Illinois) and was able to accompany my brother on burger tour. This was Tony's review to write, but since it was my one chance to write something, and Tony didn't have the best track record, here goes…
The folks leaving from the Raytheon parking lot got there late, but a staggered arrival proved to be a good approach: even though there were 20 tourists along, we obtained our food fairly quickly. There seemed to be ample parking in back for Marti's patrons, also a considerable win. The neighborhood has a lot of neon lights and is home to at least one strip club. This left at least a few tourists wishing that they had brought more ones. [in other words...we were on "Sunset Blvd." - Mistro]
The atmosphere itself was fairly interesting. I would describe it as an attempt to simulate an outdoor hotdog & burger stand inside, down to cardboard food baskets, the paper towel dispenser, and the word "stand" in the name. The thing is that it's inside a train car, harkening back to the roadside attractions and diners of rural America. I wanted to ask, "Which is it?" Let's just call it unique. The seating runs along one wall and consists of several tables, each suitable for four or five people. There may be additional outdoor seating; I didn't check.
The question, "Which is it?" was a bit of a theme. The aprons claim to have possibly the world's best hotdogs and hamburgers, but it seems to me that you can only have one. (In Champaign, the late Taki Iatropoulos managed to meet both of these criteria, but not at the same time - the "possibly-best" hotdogs and assorted sausage-in-bun foodstuffs were from his cart and the possibly-best burgers were from the restaurant he later opened.) This lack of dedication to the burger was evidenced in the ratings and comments (this is a lie - I haven't seen them as they are still in Tony's possession): after my burger (which was certainly not bad), I was fairly convinced that these could not possibly be the world's best burgers (caveat: I made the rookie mistake of choosing a double cheeseburger instead of a 1/2 pound burger). I have no reason to believe that the hotdogs are not among the possibly-best. I was tempted to check, but will instead leave this investigation, and the implications as to whether this place is going for "inside" or "outside" to some enterprising "hotdog tourist".
Additional notes and observations:
I was also disappointed in the fries, which lacked an exterior texture.